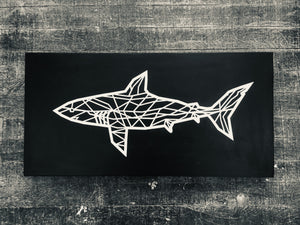 Deep shark with silver foil
Sale price Price $195.00 Regular price
The shark is the world's largest fish and oldest and most adaptive predator (which is probably why you're terrified of them and use it as an excuse not to go surfing). 
This original work capturing this symbol of quiet strength and precision is perfect for SCUBA divers, badasses, and anyone who watches Shark Tank. 
In fact, this is the perfect gift for decorating your new place, revamping office artwork, and reminding yourself to keep swimming no matter what the current brings.  
Painted on Canadian birch wood panel